François Rabelais
(Redirected from Rabelais)
Categories: Writers | The Gnostic Saints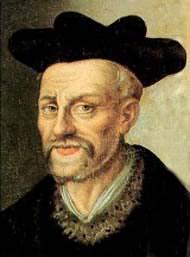 François Rabelais
(ca. 1493 - April 9, 1553) was a Renaissance writer, born in Chinon, Indre-et-Loire, France. His second book,
Pantagruel
, includes one of the first references to
Thelema
and Do What Thou Wilt.
Rabelais was first a novice of the Franciscan order, and later was a monk at Fontenay-le-Comte, where he studied Greek and Latin, as well as science, philology, and law, already becoming known and respected by the humanists of his era, including Budé. Harassed due to the directions of his studies, Rabelais petitioned Pope Clement VII and was granted the permission to leave the Franciscan order, and enter the Benedictine order at Maillezais, where he was more warmly received.
Later he left the monastery to study medicine, and probably studied at the University of Poitiers and University of Montpellier. In 1532 he moved to Lyons, one of the intellectual centres of France, and not only practiced medicine, but edited Latin works for the printer Sebastian Gryphius. As a doctor, he used his spare time to write and publish humorous pamphlets which were critical of established authority and stressed his own perception of individual liberty. His revolutionary works, although satirical, revealed an astute observer of the social and political events unfolding during the first half of the sixteenth century.
Using a pseudonym, in 1532 he published his first book, Pantagruel, that would be the start of his successful Gargantua series. In his book, Rabelais sang the praises of the wines from his hometown of Chinon through vivid descriptions of the eat, drink and be merry lifestyle. Despite the great popularity of his book, both it and his follow-up book were condemned by the academics at the Sorbonne for their unorthodox ideas and by the Roman Catholic Church for its derision of certain religious practices. Rabelais' third book, published under his own name, was also banned.
With support from members of the prominent du Bellay family (esp. Jean du Bellay), Rabelais received the approval from King François I, to continue to publish his collection but after the death of the enlightened king, Rabelais was frowned upon by the academic elite and the French Parliament suspended the sale of his fourth book.
Afterwards, Rabelais travelled frequently to Rome with his friend Jean du Bellay, and lived for a short time in Turin with du Bellay's brother, Guillaume, during which François I was his patron. Rabelais probably spent some time in hiding, threatened by being labeled a heretic. Only the protection of Du Bellay saved Rabelais after the condemnation of his novel by the Sorbonne.
Rabelais later taught medicine at Montpelier in 1537 and 1538, and in 1547 became curate of St. Christophe de Jambe and of Meudon, from which he resigned before his death in Paris in 1553.
Rabelais and Thelema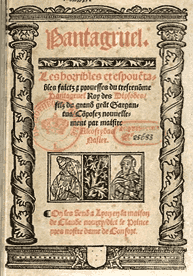 In 1532 Rabelais wrote
Gargantua
and
Pantagruel
, a connected series of books. They tell the story of two giants—a father (Gargantua) and his son (Pantagruel) and their adventures—written in an amusing, extravagant, and satirical vein.
It is in the second book where Rabelais writes of the Abbey of Theleme, built by the giant Gargantua. It pokes fun at the monastic institiutions, since his abbey has a swimming pool, maid service, and no clocks in sight.
One of the verses of the inscription on the gate to the Abbey of Theleme says:
      Grace, honour, praise, delight,
            Here sojourn day and night.
                  Sound bodies lined
                  With a good mind,
            Do here pursue with might
            Grace, honour, praise, delight.

But below the humor was a very real concept of utopia and the ideal society. Rabelais gives us a description of how the Thelemites of the Abbey lived and the rules they lived by:
All their life was spent not in laws, statutes, or rules, but according to their own free will and pleasure. They rose out of their beds when they thought good; they did eat, drink, labour, sleep, when they had a mind to it and were disposed for it. None did awake them, none did offer to constrain them to eat, drink, nor to do any other thing; for so had Gargantua established it. In all their rule and strictest tie of their order there was but this one clause to be observed,
Do What Thou Wilt;
because men that are free, well-born, well-bred, and conversant in honest companies, have naturally an instinct and spur that prompteth them unto virtuous actions, and withdraws them from vice, which is called honour. Those same men, when by base subjection and constraint they are brought under and kept down, turn aside from that noble disposition by which they formerly were inclined to virtue, to shake off and break that bond of servitude wherein they are so tyrannously enslaved; for it is agreeable with the nature of man to long after things forbidden and to desire what is denied us.
Links of Interest
References
Wikipedia. (2004). Rabelais (http://en.wikipedia.org/wiki/Rabelais). Retrieved Sept. 22, 2004.